Slavic Series is my ongoing project where I illustrate my favourite artists surrounded by the East-European flora. It started with Slavic Frida, which got the most recognition of all of them. Two months later, I finished Slavic Dali, which became my favourite. And the latest addition to the family is Slavic Magritte. A few more names are about to join the series soon, but hush-hush for now.
BCN Poster was supposed to be a part of a bigger City Letters series, but so far, I only managed to finish this one. Unlike most of my illustrations, BCN Poster has been created solely in vectors, without any textures. I was testing Adobe Fresco during the pandemic, and this is what came out of it.
I often surround myself with my favourite pieces of pop culture - books, movies and series. That's precisely why many of my style adjustments and series ideas came from my fan art pieces. Naming a few, from the top left, you'll find the original drawing behind my Potterhead Illustrations, two of my Lyrics Posters, and a series of Ghibli-inspired art created for an Instagram challenge.
Potterhead Illustrations are my favourite pieces of commissioned work, even though I spend a significant amount of time making sure they are book-accurate, and I add an impossible number of personal details to them. Since I'm a Potterhead, this fandom is obviously the easiest for me to explore, but you can also notice a Star Wars piece in the upper row, which I undeniably enjoyed drawing.
Truth to be told, it all started with Pop Culture Portraits. Well, I didn't call them that then, but the first original piece of a person looking like their favourite character was my husband portrayed as Han Solo (lower right corner). Over the years, I drew regular people as sports stars, superheroes, Harry Potter characters, Geralt of Rivia, Elizabeth Bennet and Lucifer (among many others). I brought them the magic they needed in their lives because a life full of magic is what we all deserve.
Another of my magic-related ideas is Patronus Pet Portrait. It's a relatively simple concept, especially compared to some of my more advanced illustrations. It started with me discovering the Bloom tool in Procreate, and here we are now with a collection of glowing pets.
Apart from the portraits for geeks, I sometimes also get commissioned to draw regular people as themselves. So here are a few illustrations I've done over the years, which are as normal as you can expect them to be with me as an illustrator 😉
Portraits tend to be referred to as the most ambitious component of drawing. But I have to say they are so much more worth it than the damn apples that you're shading for the 10th hour! And I very much need this internal drive to improve my drawing skills. I think I've illustrated hundreds of faces since I started my art journey, and I can vividly see the change in my drawing style through them. The first ones were, well, simple. And very much anatomically incorrect (the necks used to be so thin, there is no way any head could be placed on them). Then I experimented a lot. And now, I can finally say that the portraits I draw are in the appropriate place between accuracy and stylisation.
I'm pretty sure all artists have made at least one self-portrait. Are we vain like that? Not necessarily. Self-portraits can teach an illustrator a lot. You get to see the changes in your style over time, but the self-portraits also grant you the freedom to experiment with the live subject available at all times. That applies to your face as much as any other body part - I once spent a month drawing my hands until I finally improved.
Even though I wasn't a seasoned designer in 2018, I obviously had to take care of all my wedding stationery. Who else would? And that's how my simple but charming wedding invitation was created. Then, years later, my friend asked me to create something similar for her wedding as a celebratory card which she could gift to her guests. So here they both are side by side, the old and the new.
"Yes, I can!" is the first book I illustrated. It's a short and sweet story about a little girl overcoming her limitations, which was self-published on Amazon by Marzena Rudyk, its author. I was delighted to work on this project as I aspire to become a full-time children's literature illustrator.
Above is a mural project I drew for a restaurant in the United Arab Emirates. It's a map of Naples (the home of Italian pizza), New York (where the American burgers come from) and Al Ain, where the PNB restaurant is located. It was important for the owner that the mural shows the diversity and atmosphere of these cities, along with the food which they're famous for. So far, that was the biggest illustration I worked on - I drew it in scale, of course, but the final artwork will be roughly 1 by 3 metres.
I enjoy drawing prints for T-shirts and other clothes. I think there's no better gratification for a print author than someone who chooses to wear a T-shirt with your art on it. In fact, most of my Pop Culture Portraits were printed on T-shirts and hoodies. Wait a minute, is that chicken funky or what?
Four illustrations I prepared for Our Planet Week 2021: Protect, Energy, Biodiversity and Reuse+Reduce. Thanks to this Instagram challenge, four trees were planted by One Tree Planted (a nonprofit organisation).
In the summer of 2021, I co-hosted a Summer Fairytale Challenge on Instagram. That was a lot of fun and a great chance to meet many fantastic artists. It was also an excellent opportunity to leave my illustrative comfort zone, as the prompts were voted for by all hosts, and some of the winning ones were quite unexpected.
Each year since 2020, I design my own Christmas card, print around 25 copies, and send them out to friends and family. Writing 20+ personal wishes is undeniably a challenge, however, it gives me a chance to connect with people on a more personal level. I also create social media "holiday cards" for my clients each winter and spring. The one with the hares got rejected, so I used it on my social profiles instead. And finally, there's also my Harry Potter-themed birthday card, which was substantially a lettering exercise for me.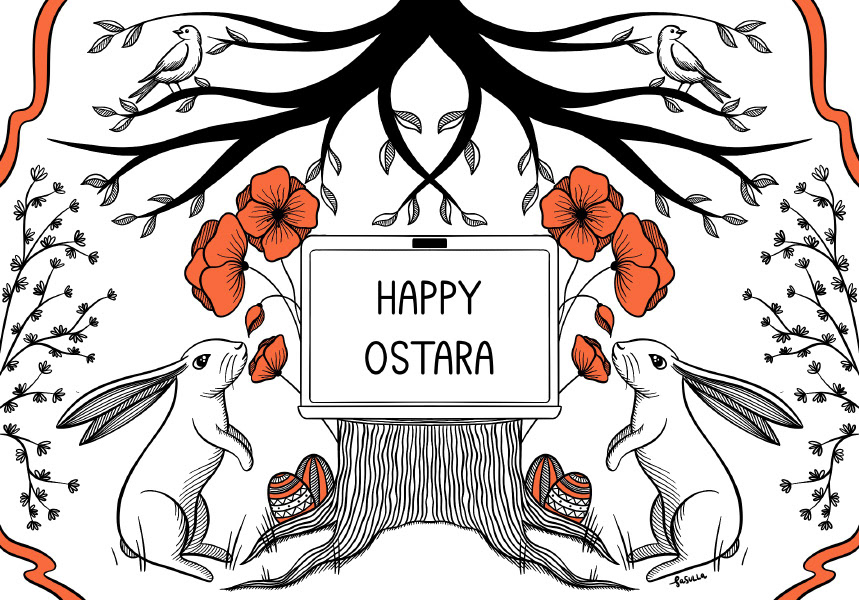 Here lies all that has no place in any other category - Skillshare projects, art challenges and all of the other random ideas I drew over the years. I have chosen seven out of many to serve as representatives of all the works in progress, fast sketches and other finished and unfinished illustrations buried on my computer.